DEAR CUSTOMER,
WE HAVE 2 WEB ADDRESS;
www.stitchesbylope.com (FOR NIGERIA CUSTOMERS)
international.stitchesbylope.com (FOR INTERNATIONAL CUSTOMERS)
PLEASE ENSURE TO ONLY ORDER FROM THE WEBSITE THAT BELONGS TO YOUR PRESENT LOCATION.
PLEASE FOLLOW THE STEPS BELOW TO ORDER ON THE WEBSITE.
CLICK ON THE PRODUCT YOU WANT TO TO ORDER, YOU CAN ALSO ACCESS DIFFERENT CATEGORIES ON THE WEBSITE TO CHECK PRODUCTS OR ALTERNATIVELY USE THE SEARCH BOX..CATEGORIES AS DISPLAYED BELOW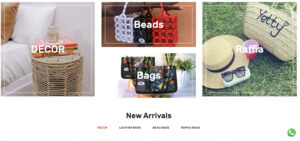 2. CLICK "ADD TO CART" ON THE PRODUCT PAGE ,
NOTE; FOR SOME PRODUCT WITH EXTRA OPTIONS LIKE "CUSTOM NAME BAG" AND SIZE SELECTIONS, PLS ENSURE TO SELECT AND INPUT THE CORRECT OPTIONS..AS SHOW BELOW.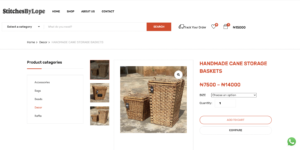 3. ONCE YOU CLICK ADD TO CART, THE "VIEW CART" OPTION COMES UP AS SHOW IN THE IMAGE BELOW, CLICK IT TO VIEW YOUR CART AND PROCEED TO CHECKOUT, BUT IF YOU ARE STILL SHOPPING, NO NEED TO VIEW CART YET, YOU CAN ADD MORE PRODUCTS THEN VIEW WHEN YOU ARE DPONE SHOPPING.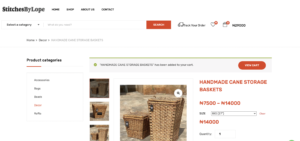 4. ON THE "VIEW CART PAGE" IT SHOWS WHAT YOU IN YOUR CART AS SEEN BELOW, SCLOW UP AND CLICK PROCEED TO CHECKOUT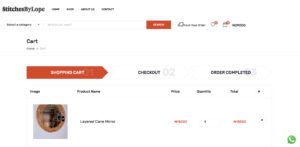 5. ON THE CHECKOUT PAGE AS SHOWN BELOW, PLEASE ENSURE TO INPUT CORRECT DETAILS AS THIS WILL HELP US TO PROCESS YOUR ORDER CORRECTLY, THERE IS ALSO AN OPTIONAL "CREATE ACCOUNT" BUTTON IF YOU WILL LIKE TO CREATE ACCOUNT ON THE WEBSITE FOR EASY SUBSEQUENT SHOPPING.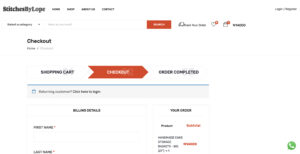 6.AS YOU INPUT THE CORRECT DETAILS, PROCEED TO MAKE PAYMENT AND COMPLETE YOUR, YOU WILL RECEIVE AN EMAIL IMMEDIATELY ON THE EMAIL YOU INPUT ON CHECKOUT.
7. YOU CAN USE THE "ORDER NOTES" IN THE CHECKOUT PAGE  AS SHOWN BELOW TO ADD ADDITIONAL INSTRUCTIONS TO THE ORDER.

ALL DELIVERY DETAILS WILL BE SENT VIA EMAIL.
NOTE: STITCHESBYLOPE LIFESTYLE WILL NEVER SHARE YOUR PERSONAL DETAILS, READ MORE ON OUR PRIVACY POLICY HERE.
WE USE PAYSTACK ON OUR NIGERIA WEBSITE :
Paystack is a PCI-certified, auditor certified, PCI Service Provider Level 1
The highest certification level. All connections to our services are forced to happen over HTTPS using TLS 1.2 (SSL). We use HSTS to ensure browsers interact with Paystack only over HTTPS.
WE USE FLUTTERWAVE ON OUR INTERNATIONAL WEBSITE:
Flutterwave is PCI-DSS Level 1 Certified
It's a global set of standards and there are 4 possible levels of PCI-DSS certifications that a company can acquire, Level 1 being the highest. This means that we have acquired the highest standard of safety when it comes to processing your card information
OUR TEAM ARE ALWAYS READY TO HELP FOR ALL ENQUIRIES VIA THIS EMAIL: support@stitchesbylope.com